July 5, 2016
Top 6 IoT Products You Want NOW!
Ah, the Internet of Things (IoT), it can be described in many ways. It can be quite bewildering: full of useless, strange gadgets that serve the sole purpose of entertainment. It can be scary: with the growing, highly intelligent capabilities of technology that raise potential security and privacy concerns. It can be truly life-changing: designed to make our lives easier, more connected (which still might fall under the description of scary), healthier, or happier.
No matter how you describe IoT, one thing is certain: IoT is constantly changing, evolving, and adapting to our demands of  faster, easier technology. We've scoured the internet reading product reviews and watching videos to bring you our top 6 IoT products that  you're not going to want to miss. These 6 new tech products will change the way you shop, watch movies, play with your pet, and more! 
PlayDate
What is life without a furry companion? Our pets are like our babies. But working long hours away from home, possibly where the commute prohibits a mid-day trip to check on your beloved pet, can be challenging. Wouldn't it be awesome to be able to see, talk to, and play with your pet, no matter where you are? Da-da-da-dum! We bring you PlayDate – "the world's first truly interactive pet camera."
PlayDate will be ready for shipment in December 2016, but ya gotta admit, it's cool enough to pre-order. It's a 'smart ball' that you control with an app on your phone; it's a pet camera so you can see your pet interact with PlayDate; and it's a communication device that lets you talk to your fur baby in  high-pitched, loving squeals that'll make your coworkers wonder. It's OK though; they'll be next in line for this perfect pet play toy! Check it out on Kevin Li's (already successful) IndieGoGo campaign. Feeling distant from your furry friend while you work all day? Now you can play with them from your office via a new mobile app. 
Amazon Dash Button
Do you remember the Staples campaign where an 'easy button' could be pressed to relieve everyone of all worries and stresses? Amazon made that dream a reality,  and they call it the Dash Button. Exclusive to Amazon Prime members, there are a variety of products that can be delivered right to your door at the press of a button. Everyday necessities available for quick delivery include: hygiene items, household and grocery items, beauty products, baby needs, and even pet products.  Last minute, late night runs to the corner store? Ha! That's so 2015. Using your computer to search for items you order regularly? Puh-leeze! Check out the list of over 100 products you can order with one press of your Dash Button. Who wants to run to the store anymore when you're low on basic home goods? With this product, you won't have to. 
The Tap Strap
This wearable device makes any surface into a keyboard. It's worn like a glove, and it detects tapping motions that translate into typed words or commands. The glove can be paired with any compatible bluetooth-enabled device  for  "fast, accurate, and eyes-free" typing. It is currently available for iOS and Android phones and tablets, Mac and Windows PCs, and smart TVs. Watch the introduction to Tap Strap here.
There is sure to be a learning curve with this product, as the tapping motions are not, in any way, comparable to typing on a keyboard. There are combinations and patterns to be learned, but don't worry, that's why the company created a tutorial app called TapGenius. TapGenius is designed to help you learn how to type using Tap Strap through a series of music and games. You can become a skilled Tap Strapper within an hour. Say goodbye to  those tiny on-screen keyboards, and maybe even dodge those embarrassing autocorrect moments with The Tap Strap. This wearable typing device is 1 of 6 new #tech products you're going to want to go buy right now! 
Samsung VR
Virtual reality was once a thing of fantasy, frequently seen in  books, movies, and comics. However, life often imitates fiction, and given the rapid innovations in technology, are we truly surprised that mobile virtual reality is now here?
Have you ever wondered what it'd be like to watch Netflix on the moon, or thought how cool it would be to suit up as Iron Man and kick some Ultron butt? Samsung Gear VR has made gaming, movies, live performances, and other adventurous explorations almost completely immersive by using their virtual headset and your Samsung mobile device. New games, experiences, and applications are constantly being added to the Oculus VR app store. This is one of those products you have to see to believe. Watch it in action. Watching movies from the moon isn't so far fetched. Check out the list of 6 new #tech products you're gonna want to buy now 
Tile
Have you ever lost your keys or your phone? Of course you have. It's annoying, and it always seems to happen when you're already running late. Tile is one of those "why-didn't-I-think-of-that" products, but you'll be grateful someone else brought this idea to life.
Tile is a small, bluetooth tracker that you can stick onto anything that matters. Phones, keys, wallets – anything. When you can't find something with a Tile on it, whip out your phone and use the app to track where the item is. In the app, you'll be able to see how close you are to finding the lost item and even "ring" it if it's within a 100 foot radius. If you can't find your phone, simply press any one of the Tiles you have and it will ring your phone, even if it's on silent. Mind. Blown.
Typically, when you lose something, the classic go-to is to retrace your steps. Yeah, Tile does that too. It records the last places it saw your device and displays a map of the previous locations. If you accidentally left your phone behind somewhere, just log into their website app to view the map of the last known location, make it ring, or even display a lock screen to the folks that may have found it. Are you asking yourself, "Where has this been my whole life?" Yeah, us too. Watch how Tile works. Never lose your keys, phone, or anything again. This new #tech product knows where everything is. 
Triby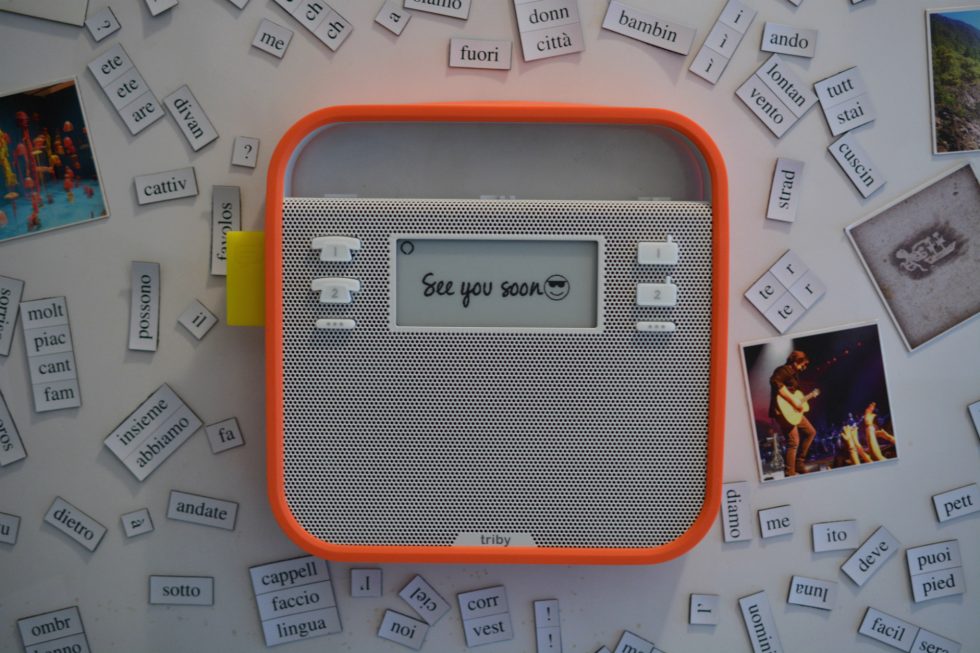 A kitchen is the social hub of any home where we come together to eat, drink, laugh, and connect with our family. Triby's goal is to connect families in the kitchen. It's a smart speaker, allowing you to change online radio stations or connect to your phone via bluetooth. It is a modern day notepad, allowing families to share notes, doodles, emojis from apps directly to the Triby device. The coolest feature of Triby is that it's a family phone, allowing free internet calls or voice-commanded dialing through your smart phone. Contacts can be pre-set and managed through Triby's mobile app. Only people in the pre-set group can call Triby, so even the little ones can safely call family members without a phone.
New features, such as ordering pizza, asking news sites for headlines, and requesting rides from linked car services are continually being added. Smarter kitchens might actually be here sooner than we think. Read more about Triby. What if there was a digital hub for the family to write notes, make calls, check the news, and listen to radio – hands free? Now there is. 
Yes, the world of IoT is truly bizarre at times. But how cool are these products? If tech is your thing, consider checking out our Top 6 IoT Trends for This Year.
If you have an idea and you need help to bring it to life, contact us for a consultation. We'd love to help.